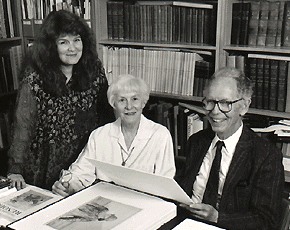 R. E. Lewis opened his gallery, R. E. Lewis, Inc. in San Francisco in October 1952, upstairs at 555 Sutter Street, dealing, then as now, in original prints, roughly from Schongauer to Picasso, and in old Japanese woodblock prints and Indian miniature paintings. Internationally acknowledged as a fine print expert and scholar, Lewis was an emeritus member of the International Fine Print Dealers Association. He and his wife, Michal, in collaboration with Suzanne Boorsch, then curator at the Metropolitan Museum of Art, wrote a catalogue raisonée of the prints of the 16th century engraver, Giorgio Ghisi. His daughter, Jan Lewis Slavid, worked with him for 30 years and is now in charge of the daily running of the business, R. E. Lewis & Daughter, operating in Marin County by appointment only.
We are sorry to report that R. E. Lewis passed away April 17th, 2005. There was a show in his memory at the Achenbach Foundation for the Graphic Arts, The Legion of Honor, San Francisco, titled Connoisseurship and Commerce: The Legacy of R. E. Lewis. The opening was on December 10, 2005 and the exhibition ran until February 19, 2006.
The firm issues e-catalogues highlighting new offerings, and exhibits at print fairs throughout the country. Among the services of the firm are the cataloging, authentication, and appraisal of collections for insurance or gift purposes. The firm also acts as agents at auctions of prints, and is always interested in purchasing single prints or collections.
Clients sit at a table and look through solander boxes containing a large and varied stock of fine prints, including, according to the time, Dürer, Rembrandt, the Tiepolos, Italian sixteenth-century engravings and etchings, Goya, Delacroix, Millet, Corot, Renoir, etc. and a range of European and American twentieth-century prints, including German Expressionism.
Indian miniatures offered range from masterpieces to less important but highly decorative paintings and drawings.
R. E. Lewis & Daughter
P.O. Box 6126
San Rafael, CA 94903
Tel: (415) 472-7021 Fax: (415) 472-7043
email:
jls@relewis.com